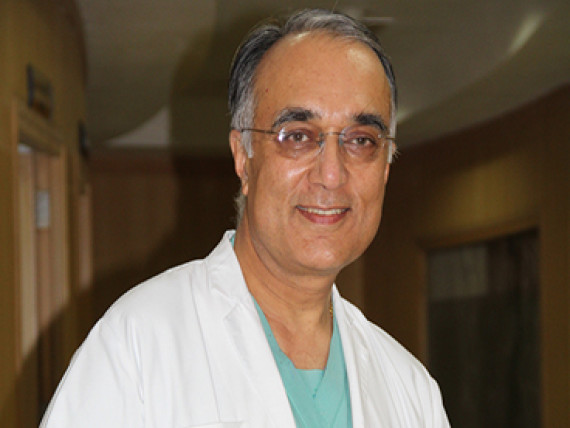 Dr. Virandera Pal Bhalla
Director
Centre for Digestive & Liver Diseases Consultant Surgical Gastroenterology

Dr. Virandera Pal Bhalla graduated from the Armed Forces Medical College (AFMC) Pune in Dec 1975. AFMC is an internationally acclaimed centre for medical learning and admission to the undergraduate MBBS course is highly competitive. After graduation he was commissioned into the Indian Air Force (IAF) and gained valuable experience in Areo Space Medicine. In 1982 he was selected for the post graduate surgical residency program at AFMC. Soon after receiving a Masters in Surgery he served as consultant in Surgery in major service hospitals at Jorhat and Lucknow where he honed his skills in trauma surgery.
He was selected for super specialization in Gastro Intestinal Surgery and spent three invaluable years training in GI Surgery and Liver Transplantation at All India Institute of Medical Sciences (AIIMS) New Delhi as a specialist registrar from 1991-1993. It was here he became proficient in complex abdominal surgery for GI Cancers. He developed a keen interest in Portal Hypertension and has accumulated a large experience of almost 100 shunt operations after leaving the AIIMS.
From AIIMS New Delhi he moved to a higher academic platform as first Reader and later Professor of Surgery AFMC Pune. He spent 9 years on the faculty at AFMC and helped mentor an entire generation of surgeons who occupy positions of eminence across the globe. An achievement of which he is justifiably proud. In the years before he took an early release from the IAF he held the appointment of Senior Adviser and Professor in Surgery, & GI Surgery at the Rajiv Gandhi University of Health Sciences, (RGUHS), Karnataka.
During his tenure at AFMC Pune and Command Hospital Bangalore and RGUHS he was a recognized teacher and examiner for undergraduate and post graduate students in many universities. He has pioneered Experimental Liver Transplantation in the Armed Forces and done extensive research on the relationship of Portal Hypertension and Biliary Obstruction. He has over fifty publications in national and international journals. He has travelled extensively to some of the best centers in the world and has been a visiting fellow at the St. Marks Hospital for Colon & Rectal diseases London U.K and centre for Liver Transplantation at the Kaohsiung Memorial Hospital Taiwan. He was awarded the Fellowship of the International College of Surgeons Chicago (USA) in 1996 and is a Fellow of the Association of Surgeons of India.
His affiliations, memberships include life membership of
Association of Surgeons of India (ASI).
Indian Association of Surgical Gastroenterology (IASG).
Indian Medical Association (IMA).
International College of Surgeons, Chicago (USA).
Aerospace Medical Society of India.
Pune Surgical Society.
Bangalore Surgical Society.
World Wide fund for Nature India.
Since 2003 he has been in active GI surgical practice in some of the apex Medical Institutes of Delhi like Indian Spinal Injury Centre, Sitaram Bhartia Institute of Super Speciality Science & Research and Max Super Speciality Hospital Saket.
He is currently a Senior consultant in Surgical Gastroenterology and the Director of the Centre of Digestive Liver Diseases B.L.K Super Speciality Hospital and leads an exceptionally talented surgical care team delivering cutting edge conventional and minimal access laparoscopic treatments for the entire spectrum of abdominal diseases.
Meet the other team members